Achaemenid (Persian) Empire from Wikimedia
https://commons.wikimedia.org/wiki/File:Achaemenid_Empire_500_BCE.jpg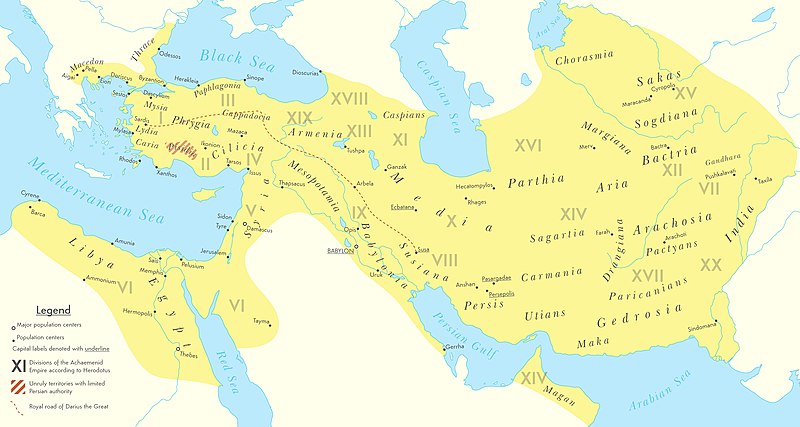 Cyrus of Persia moved by God.
People return from exile,
altar rebuilt and sacrifices offered. Temple foundations laid - celebrations!
Opposition and discouragement. Lettters to the king - work stops.
Haggai prophesied - work restarted.
Rebuild recommences - officials concerned.
Darius authorises rebuild.
Passover.
Artaxerxes backs Ezra's return.
Israel sins. King commissions Ezra. Men chosen to return.
30 tons of Gold & silver.
Sin discovered, Ezra appalled.
Shekaniah suggests remedy.
Ezra (d)
8:1-36,
9:1-15,
10:1-17
Cupbearer to king - but downcast.
Commissioned to rebuild walls of Jerusalem.
Everyone joined in
Nehe. (a)
1:1-11,
2:1-20,
3:1-32
Sanballat and Tobiah threaten.
Prayed to God and posted a guard.
Poverty - 'Jubilee' agreed -
Wall completed.
Nehe. (b)
4:1-23,
5:1-19,
6:1-19
Ezra reads the Law - sadness.
Festival of Tabernacles - joy.
People encouraged to live in Jerusalem.
Wall dedicated - rejoicing.
Nehemiah returns from Jerusalem
People and Temple Cleansed.
Sabbath observance enforced.
What happened next?