---
Provide everyone with a copy of the scripture passages used for this study
You will need a means of displaying some pictures.
John 15:1-8
1 "I am the true vine, and my Father is the gardener. 2 He cuts off every branch in me that bears no fruit, while every branch that does bear fruit he prunes so that it will be even more fruitful. 3 You are already clean because of the word I have spoken to you. 4 Remain in me, and I will remain in you. No branch can bear fruit by itself; it must remain in the vine. Neither can you bear fruit unless you remain in me.
5 "I am the vine; you are the branches. If a man remains in me and I in him, he will bear much fruit; apart from me you can do nothing. 6 If anyone does not remain in me, he is like a branch that is thrown away and withers; such branches are picked up, thrown into the fire and burned. 7 If you remain in me and my words remain in you, ask whatever you wish, and it will be given you. 8 This is to my Father's glory, that you bear much fruit, showing yourselves to be my disciples.
Display the picture of the Vine - read out the parts from left to right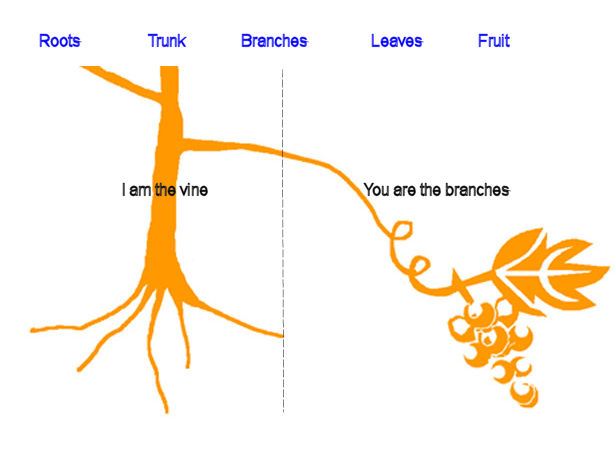 Point out the words: 'I am the vine, You are the branches'
Now hide the picture
This evening our title is 'in the vine'. What did verses 4 and 5 say?
4 Remain in me, and I will remain in you. No branch can bear fruit by itself; it must remain in the vine. Neither can you bear fruit unless you remain in me.
5 "I am the vine; you are the branches. If a man remains in me and I in him, he will bear much fruit; apart from me you can do nothing.
'Remain in' is mentioned 8 times in the first 8 verses so it's obvious that it is important. But what does Jesus mean when he says remain in me? Well that is going to prove more difficult so to warm up we'll look at the next phrase: I will remain in you.
What does it mean to have Jesus living in us?
Does it just mean that we agree with Christ, or that his ideas are in us?
Can we take it literally? That somehow, even if we can't explain it, Jesus is actually living in us?
And not only living but remaining (or abiding) in us?
We're looking at so many scriptures I've provided them for you. Let's look at the first five:
Galatians 2:20
20 I have been crucified with Christ and I no longer live, but Christ lives in me. The life I live in the body, I live by faith in the Son of God, who loved me and gave himself for me.
Romans 8:10
10 But if Christ is in you, your body is dead because of sin, yet your spirit is alive because of righteousness.
2 Corinthians 13:5
5 Examine yourselves to see whether you are in the faith; test yourselves. Do you not realise that Christ Jesus is in you—unless, of course, you fail the test?
Ephesians 3:17
17 so that Christ may dwell in your hearts through faith. And I pray that you, being rooted and established in love,
1 John 4:4
4 You, dear children, are from God and have overcome them, because the one who is in you is greater than the one who is in the world.
So can we confidently say that Christ is literally in us? YES!
Could someone explain what that really means?
That wasn't too difficult, but the next bit may be. What does it mean for us to be 'in Christ'?
Does it perhaps mean:
'To have a relationship with Christ'?
'To follow his example of a life obedient to the will of God'?
Or does it mean that we are really, actually, somehow, in Christ?
The best way to read the bible is to start off assuming that it means exactly what it says. So let's assume that when it says we are in Christ, that is exactly what it means. If we are to move from that position it will become obvious from other scriptures.
Where shall we start? Perhaps at the beginning. Or even before that!
2 Timothy 1:9
9 who has saved us and called us to a holy life—not because of anything we have done but because of his own purpose and grace. This grace was given us in Christ Jesus before the beginning of time,
Did we exist then? No
Only in the plan of God. So God, looking forward, knowing that we would exist, already allocated or earmarked grace for us in Christ, from before the beginning of time.
We're not going to look at predestination now. That will be our fourth study
(John 15d) – but for now we must be content with what scripture says:
1 Corinthians 1:26-30
26 Brothers, think of what you were when you were called. Not many of you were wise by human standards; not many were influential; not many were of noble birth. 27 But God chose the foolish things of the world to shame the wise; God chose the weak things of the world to shame the strong. 28 He chose the lowly things of this world and the despised things—and the things that are not—to nullify the things that are, 29 so that no-one may boast before him. 30 It is because of him that you are in Christ Jesus, who has become for us wisdom from God—that is, our righteousness, holiness and redemption.
Ephesians 1:3-14
3 Praise be to the God and Father of our Lord Jesus Christ, who has blessed us in the heavenly realms with every spiritual blessing in Christ. 4 For he chose us in him before the creation of the world to be holy and blameless in his sight. In love 5 he predestined us to be adopted as his sons through Jesus Christ, in accordance with his pleasure and will—6 to the praise of his glorious grace, which he has freely given us in the One he loves.
7 In him we have redemption through his blood, the forgiveness of sins, in accordance with the riches of God's grace 8 that he lavished on us with all wisdom and understanding. 9 And he made known to us the mystery of his will according to his good pleasure, which he purposed in Christ, 10 to be put into effect when the times will have reached their fulfilment—to bring all things in heaven and on earth together under one head, even Christ.
11 In him we were also chosen, having been predestined according to the plan of him who works out everything in conformity with the purpose of his will,12 in order that we, who were the first to hope in Christ, might be for the praise of his glory. 13 And you also were included in Christ when you heard the word of truth, the gospel of your salvation. Having believed, you were marked in him with a seal, the promised Holy Spirit, 14 who is a deposit guaranteeing our inheritance until the redemption of those who are God's possession—to the praise of his glory.
When did we actually enter Christ?
Look back at verse 13
It was when we heard and believed. When we came to Him. When we accepted Christ into our lives, he accepted us into Him!
When we became a Christian God placed us into Christ by his own initiative and Grace. With some Christians that was a specific moment in their lives. But for others, they have come to realise that God took the initiative at an early age and there was never a time when they did not know Jesus.
Discussing this question of timing now could lead us astray so again, we'll look at it when we consider Predestination. What is important is to know our position now – in Christ.
Philippians 3:7-11
7 But whatever was to my profit I now consider loss for the sake of Christ. 8 What is more, I consider everything a loss compared to the surpassing greatness of knowing Christ Jesus my Lord, for whose sake I have lost all things. I consider them rubbish, that I may gain Christ 9 and be found in him, not having a righteousness of my own that comes from the law, but that which is through faith in Christ—the righteousness that comes from God and is by faith. 10 I want to know Christ and the power of his resurrection and the fellowship of sharing in his sufferings, becoming like him in his death, 11 and so, somehow, to attain to the resurrection from the dead.
Ephesians 2:10
10 For we are God's workmanship, created in Christ Jesus to do good works, which God prepared in advance for us to do.
Colossians 3:3-4
3 For you died, and your life is now hidden with Christ in God. 4 When Christ, who is your life, appears, then you also will appear with him in glory.
Romans 6:1-5
1 What shall we say, then? Shall we go on sinning, so that grace may increase? 2 By no means! We died to sin; how can we live in it any longer? 3 Or don't you know that all of us who were baptised into Christ Jesus were baptised into his death? 4 We were therefore buried with him through baptism into death in order that, just as Christ was raised from the dead through the glory of the Father, we too may live a new life.
5 If we have been united with him like this in his death, we will certainly also be united with him in his resurrection.
What do we understand by that phrase – 'baptised into Jesus'?
It symbolizes what happened at conversion: having our sins washed away, dying and rising with Christ, and in Christ.
As we are now in Christ, we must live as if we are! Look at Paul's experience:
Romans 9:1 I speak the truth in Christ (and 2 Cor 2v17, 2 Cor 12v19)
Romans 15:17 …I glory in Christ Jesus in my service to God. (and 1 Cor 15v31)
1 Corinthians 4:17 … my way of life in Christ Jesus
Philippians 2:19 I hope in the Lord Jesus
Philippians 4:10 I rejoice greatly in the Lord
1 Thessalonians 4:1 Now we ask you and urge you in the Lord Jesus
2 Thessalonians 3:12 Such people we command and urge in the Lord Jesus Christ
Philemon 8 … in Christ I could be bold and order you to do what you ought to do,
Philippians 4:13 I can do everything through him who gives me strength.
(The word [Greek 'en'] translated here as 'through', is translated as 'in' in all the other passages. Where Paul intends it, he uses 'through' [Greek 'dia'] see Philippians 3:9… and be found in him, not having a righteousness of my own that comes from the law, but that which is through faith in Christ)
Colossians 2:6-7
6 So then, just as you received Christ Jesus as Lord, continue to live in him,7 rooted and built up in him, strengthened in the faith as you were taught, and overflowing with thankfulness.
2 Corinthians 5:17
17 Therefore, if anyone is in Christ, he is a new creation; the old has gone, the new has come!
PAUSE!
Now let's look more carefully at the passage we skipped: 1 John 3:24
24 Those who obey his commands live in him, and he in them. And this is how we know that he lives in us: We know it by the Spirit he gave us.
Display 'Christ in Us'.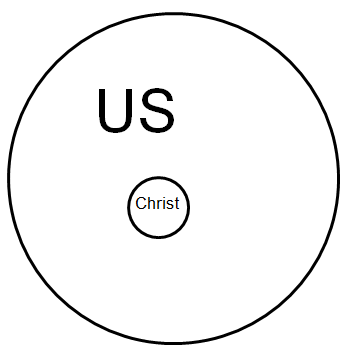 We just read 'He lives in us. We know it by the Spirit he gave us'
Why can we cope with the idea of 'Christ in us'? Is it because we can make him small and therefore we feel that we can be in control? Discuss.
Display 'Us in Christ'.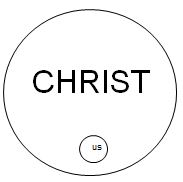 BUT we also read 'Those who obey his commands live in him'
How do we know that we live in him?
We read it many times in scripture!
To picture us in Christ is to accept that we are small and our control is questioned.
How does this make us feel?
Threatened?
Or totally safe and secure?
Let's return to our picture of the vine. Display Vine with no dotted line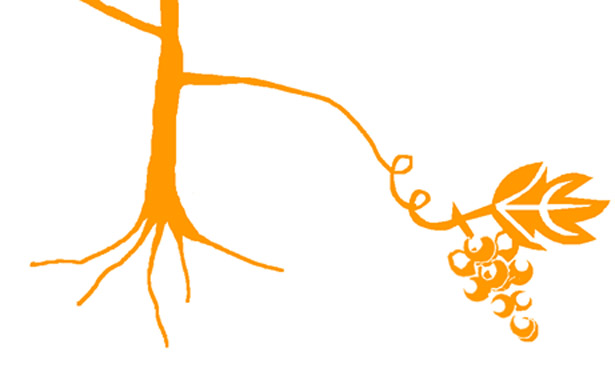 Jesus said 'I am the vine'.
Not I am the root, or I am the trunk. He is the whole vine: root, trunk, branches, twigs, leaves, and fruit. But Jesus said we are the branches. Yes – but branches are inseparably part of the vine – we are in the vine. It is impossible for a branch to exist independently: John 15v6 If anyone does not remain in me, he is like a branch that is thrown away and withers
We are in Christ, inseparably part of him.