---
This is a long study - I don't know how it could be broken up.
John 15:1-8
1 "I am the true vine, and my Father is the gardener. 2 He cuts off every branch in me that bears no fruit, while every branch that does bear fruit he prunes so that it will be even more fruitful. 3 You are already clean because of the word I have spoken to you. 4 Remain in me, and I will remain in you. No branch can bear fruit by itself; it must remain in the vine. Neither can you bear fruit unless you remain in me.
5 "I am the vine; you are the branches. If a man remains in me and I in him, he will bear much fruit; apart from me you can do nothing. 6 If anyone does not remain in me, he is like a branch that is thrown away and withers; such branches are picked up, thrown into the fire and burned. 7 If you remain in me and my words remain in you, ask whatever you wish, and it will be given you. 8 This is to my Father's glory, that you bear much fruit, showing yourselves to be my disciples.
In our first study we saw that different translations of verse 1 had a different word for Gardener, and each one showed us a different facet of the work. Let's do some revision:
'The Message' uses the word Farmer. What does that suggest to us?
-A Commercial undertaking.
-The farmer invests time, money and resources and is
-looking for a return on his investment.
GNB and NIV use the word Gardener. What does that suggest?
-Operating on a smaller scale.
-Cultivating plants more intensively.
-Spending time with each individual plant.
-Looking for a harvest from each individual plant.
RSV has Vinedresser (KJV has husbandman). What does this suggest?
A Viticulturist – a specialist vine grower.
-Someone who has an in-depth knowledge of vines and their different varieties. Their requirements for a good life: soil type, nutrients, weather conditions.
-How to graft, train and prune them for the best crop.
-The sort of support structure that is appropriate for each variety.
-Pests and diseases.
We should also notice that it is the Father himself who is the Gardener and Jesus lived his life under the Father's care and direction. You may remember our study in John chapter 5 where we read v19 The Son can do nothing by himself.
Today though we'll concentrate more on an earlier verse where we read:
Jesus said to them, v17 "My Father is always at his work to this very day"
If I said to you about a couple I know 'Of course, they spend all their time in the garden'. Could you describe what condition the garden is in?
Perfect, a riot of colour, healthy plants, well ordered.
That is how The Father maintains his vineyard. So just what does he do in his vineyard? (John 15:2)
He cuts off every branch in me that bears no fruit, while every branch that does bear fruit he prunes so that it will be even more fruitful.
We will look at pruning in more detail next time. Today we will concentrate on the first part of the verse: He cuts off every branch in me that bears no fruit.
Remember when Jesus spoke these words? It was when they were walking to the Garden of Gethsemane from the Upper Room – probably no more than an hour after Judas had left them.
As the vinedresser removes all branches that are dead, or bear no fruit, does it mean that God will remove all those who are professing Christians but who give no evidence in their lives that they are truly united with Jesus?
We saw earlier that it is the Spirit of Jesus that produces his fruit in us.
We also saw that as branches of his vine we are members of his body.
What is his body? The church.
How does God cut off dead branches? Firstly, by removing members from his body.
Let's look at Church discipline. Ten times in Deuteronomy the lord tells the Israelites: you must purge the evil from among you. In their case it was literally by stoning a rebellious person to death. (13:1-5; 17:2-7, 12; 19:13, 19; etc)
The Apostle Paul gave instruction to the church at Corinth:
1 Corinthians 5:1-5 and 12-13
1 It is actually reported that there is sexual immorality among you, and of a kind that does not occur even among pagans: A man has his father's wife. 2 And you are proud! Shouldn't you rather have been filled with grief and have put out of your fellowship the man who did this? 3 Even though I am not physically present, I am with you in spirit. And I have already passed judgment on the one who did this, just as if I were present. 4 When you are assembled in the name of our Lord Jesus and I am with you in spirit, and the power of our Lord Jesus is present, 5 hand this man over to Satan, so that the sinful nature may be destroyed and his spirit saved on the day of the Lord.
12-13
12 What business is it of mine to judge those outside the church? Are you not to judge those inside? 13 God will judge those outside. "Expel the wicked man from among you."
There are six other passages which warn churches to deal with their problems. Sin which was explicitly dealt with in the New Testament churches was publicly known and outwardly evident, and often had continued over a period of time. Because of this it was bringing dishonour to the Body of Christ, and thus to Christ himself and could no longer be ignored.
The church I attend has in its constitution the words:
In exceptional circumstances where the conduct of a member is
considered to be contrary to the Purpose and Beliefs of the Church
and/or disruptive to the relationships between members in the Church
then the Church Meeting may, after considering the facts, terminate
the membership of that person.
These are of course man-made rules attempting to follow the guidelines given us in scripture for the orderly running of a local fellowship.
What would happen if a church ducked its responsibility and allowed things to continue?
The Church would become weak, others might be led astray, Christ would be dishonoured etc.
AND if the Church does not act, then God will:
Revelation 2:14-16
14 Nevertheless, I have a few things against you: You have people there who hold to the teaching of Balaam, who taught Balak to entice the Israelites to sin by eating food sacrificed to idols and by committing sexual immorality. 15 Likewise you also have those who hold to the teaching of the Nicolaitans. 16 Repent therefore! Otherwise, I will soon come to you and will fight against them with the sword of my mouth.
What does v16 mean? (see Hebrews 4:12 For the word of God is living and active. Sharper than any double-edged sword, it penetrates even to dividing soul and spirit, joints and marrow; it judges the thoughts and attitudes of the heart.)
In what way would he 'Fight against them'?
Revelation 2:20-22
20 Nevertheless, I have this against you: You tolerate that woman Jezebel, who calls herself a prophetess. By her teaching she misleads my servants into sexual immorality and the eating of food sacrificed to idols. 21 I have given her time to repent of her immorality, but she is unwilling. 22 So I will cast her on a bed of suffering, and I will make those who commit adultery with her suffer intensely, unless they repent of her ways.
1 Corinthians 11:27-31
27 Therefore, whoever eats the bread or drinks the cup of the Lord in an unworthy manner will be guilty of sinning against the body and blood of the Lord. 28 A man ought to examine himself before he eats of the bread and drinks of the cup. 29 For anyone who eats and drinks without recognising the body of the Lord eats and drinks judgment on himself. 30 That is why many among you are weak and sick, and a number of you have fallen asleep. 31 But if we judged ourselves, we would not come under judgment.
What are we to understand verse 30 means?
Christians may suffer illness and even be cut off through death in order to preserve the rest of the body, the vine. Not loosing their eternal life, but their temporal one.
So it seems we have several interpretations.
As a Church we can remove people from the Body of Christ who are living in such an inconsistent way that it may damage the Church.
If as a Church we fail to do this God himself may intervene with sickness or death. But in both cases this usually relates to backslidden Christians, and the aim is their eventual restoration.
'Cutting off' has so far related to is the visible body of Christ on earth – his Church.
Does it not also mean that a Christian can be removed from the Body of Christ: from Christ himself?
First show pictures of 'Us in Christ' and 'Christ in us'. HERE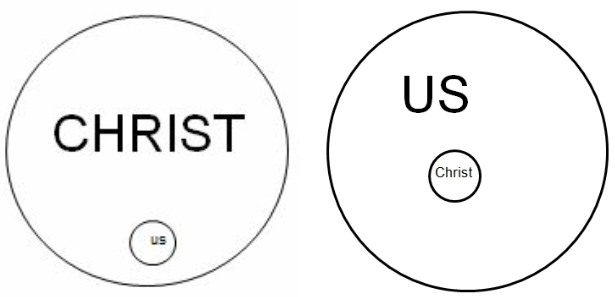 then show the same but with 'Us' and 'Christ' removed. HERE and HERE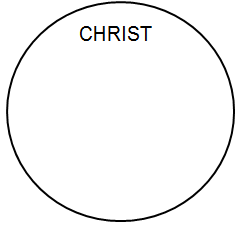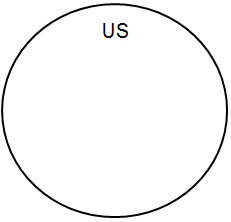 Surely then, if I can be ejected from Christ's body, it means I can loose my salvation?
Let's look at some passages in Hebrews:
Hebrews 6:4-8
4 It is impossible for those who have once been enlightened, who have tasted the heavenly gift, who have shared in the Holy Spirit, 5 who have tasted the goodness of the word of God and the powers of the coming age, 6 if they fall away, to be brought back to repentance, because to their loss they are crucifying the Son of God all over again and subjecting him to public disgrace. 7 Land that drinks in the rain often falling on it and that produces a crop useful to those for whom it is farmed receives the blessing of God. But land that produces thorns and thistles is worthless and is in danger of being cursed. In the end it will be burned.
Hebrews 10:26-31
26 If we deliberately keep on sinning after we have received the knowledge of the truth, no sacrifice for sins is left, 27 but only a fearful expectation of judgment and of raging fire that will consume the enemies of God. 28 Anyone who rejected the law of Moses died without mercy on the testimony of two or three witnesses. 29 How much more severely do you think a man deserves to be punished who has trampled the Son of God under foot, who has treated as an unholy thing the blood of the covenant that sanctified him, and who has insulted the Spirit of grace? 30 For we know him who said, "It is mine to avenge; I will repay," and again, "The Lord will judge his people." 31 It is a dreadful thing to fall into the hands of the living God.
There are several ways people have interpreted these passages. I will just give you mine!
Firstly it cannot be talking about those who backslide; I think you'd agree that Christians may backslide at some point in their lives, to a greater or lesser degree. It may even result in their being put out of the church. But later they are then fully restored, perhaps moving much closer to Jesus as a result.
What happens when we backslide? (Show next picture HERE)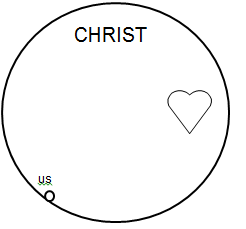 Note we are still in Christ but now very small and far away.
Also show this picture HERE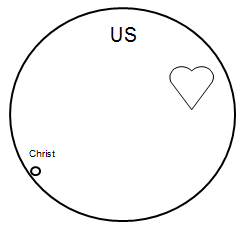 Here we see that Christ in us is now reduced to a dot and pushed to the edge.
Christ is still in us – perhaps squeezed into a corner and forgotten. And we are still in Christ – but far from his heart, and with our back turned towards him.
Does Jesus ignore us while we are ignoring him? No. In fact he may need to do something drastic in order to draw us back. Look at:
Hebrews 12:5-6
5 And you have forgotten that word of encouragement that addresses you as sons:
"My son, do not make light of the Lord's discipline,
and do not lose heart when he rebukes you,
6 because the Lord disciplines those he loves,
and he punishes everyone he accepts as a son."
The prodigal son was allowed to suffer as a result of his backsliding in order to bring him to his senses. Even Jonah would agree that being swallowed by a big fish was better than being left to drown. Christ's continued aim is the restoration of sinners.
But the first two passages we read in Hebrews do not speak of restoration and I don't think they refer to backsliders.
No, I believe they speak of a rare occurrence when a true believer turns his back on Christ, not casually, not carelessly but specifically and deliberately.
A person who deliberately tells Jesus:
'I want no more of you – I know the consequences, nevertheless that is the way I choose to go'. Remove the tiny 'Christ' in US and also 'us' in CHRIST. HERE and HERE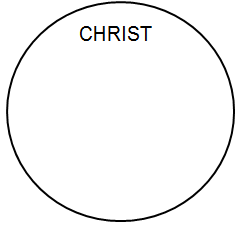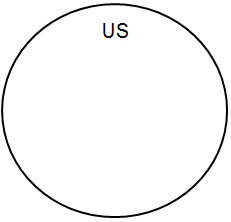 Someone I know told me she had a Christian friend who said 'I've decided that I want no more of the Christian life. The pleasures of the world are too enjoyable. I realise this means that I will go to hell but that is the decision I've made'
But what about other passages in the Bible?
John 6:37-40
37 All that the Father gives me will come to me, and whoever comes to me I will never drive away. 38 For I have come down from heaven not to do my will but to do the will of him who sent me. 39 And this is the will of him who sent me, that I shall lose none of all that he has given me, but raise them up at the last day. 40 For my Father's will is that everyone who looks to the Son and believes in him shall have eternal life, and I will raise him up at the last day."
John 17:24
24 "Father, I want those you have given me to be with me where I am, and to see my glory, the glory you have given me because you loved me before the creation of the world.
Romans 8:35-39
35 Who shall separate us from the love of Christ? Shall trouble or hardship or persecution or famine or nakedness or danger or sword? 36 As it is written:
"For your sake we face death all day long;
we are considered as sheep to be slaughtered."
37 No, in all these things we are more than conquerors through him who loved us. 38 For I am convinced that neither death nor life, neither angels nor demons, neither the present nor the future, nor any powers, 39 neither height nor depth, nor anything else in all creation, will be able to separate us from the love of God that is in Christ Jesus our Lord.
From God's side we are all safe and secure from any outside threat – we are in Christ and nothing and nobody can shake that absolute security. Jesus says 'I will never drive away' 'I shall lose none', and Paul confirms that 'nothing can separate us'. Once we are in Christ nothing and nobody can take us out, and Christ himself will not expel us.
But we can choose to apostatise, and Christ never forces anyone against their will. And the Hebrews passage also suggests that if a person has made a conscious decision to walk away, Christ may not draw them back.
That's as far as I want to go. I don't find it helpful to spend any more time considering if I could possibly deliberately give up my salvation.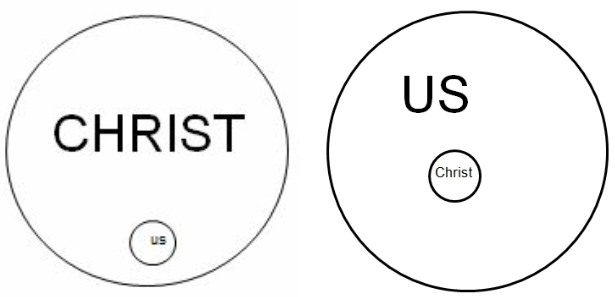 I am convinced that Jesus will not allow me out of his grasp and even if I drift away from his heart he will draw me back to full communion with him again. And my eternal destiny is secure – bought with the blood of Christ and spoken by the word of God.
Colossians 2:13-14
13 When you were dead in your sins and in the uncircumcision of your sinful nature, God made you alive with Christ. He forgave us all our sins, 14 having cancelled the written code, with its regulations, that was against us and that stood opposed to us; he took it away, nailing it to the cross.
And Jesus says in John 6:47
47 I tell you the truth, he who believes has everlasting life.
Whether you accept that a Christian can loose their salvation or not, that is ultimately up to God and not us. We should spend our time not wondering if a person could be lost but rather in doing our best to restore them.
But before we leave the topic of pruning, there is another aspect to look at. I suppose we all have to accept that winter follows the fruitful harvest time of autumn. A few old branches are left for another year to give structure to the vine, but the others, who have been fruitful, need to be removed to make way for the new growth to begin again in spring.
But here the analogy fails. We who are cut off won't be thrown into the fire but taken home by the Gardener as his treasured possessions, raised to new life with him, and continuing to bear fruit for all eternity.