Map of possible route from Kadesh to the crossing point of the River Jordan.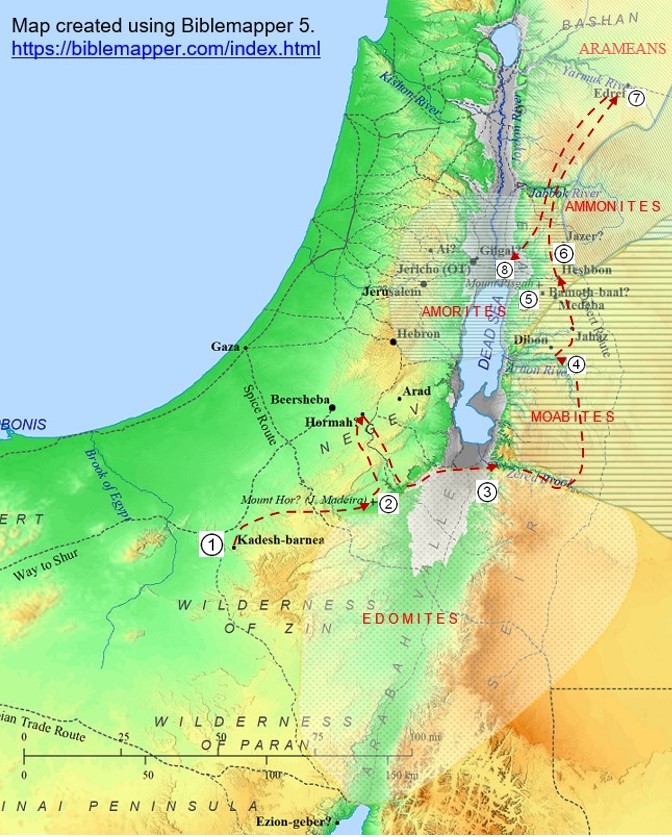 1) Kadesh-Barnea: Base camp before the journey began (Numbers 20:14).
2) Mt Hor: (Numbers 20:22, 21:4).
3) Zered valley: (Numbers 21:12).
4) Arnon River: (Numbers 21:13).
5) Mount Pisgah: (Numbers 21:19).
6) Heshbon: (Numbers 21:26).
7) Edrei: (Numbers 21:33).
8) Opposite Jericho: (Numbers 22:1).
To The Promised Land.
Spies - to Rahab's house; escape.
Ark first into River Jordan,
people cross on dry land.
12 stones frpm Jordan.
Men circumcised.
Ate produce of land, manna stopped.
Battle of Jericho.
Sin of Achan, defeat at Ai. Sin discovered, Achan punished. Ai attacked and taken.joshua reads Blessings And Curses.
Tribes, nations, chiefs & Kings
Deceived by four kings.
Attacked by five kings. Hail, sun stopped: sucess! Southern Canaan defeated.
Major attack from north. Israel victorious.
Joshua conquers all Canaan (except . . .)
Joshua
11:1-21,
various to
chapter 21
Tribes settle east Jordan
build altar - trouble -
problem solved.
Promised Land settled but
warnings repeated.