---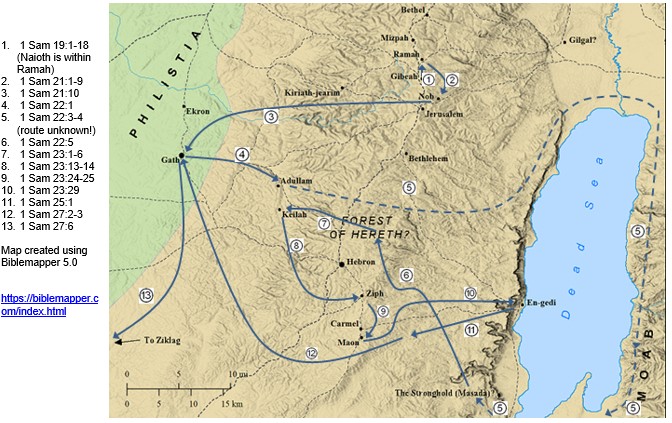 I imagine that David and his men (together with David's new wife Abigail) had been camped out in and around the town of Maon, no doubt enjoying their new-found plenty. Three miles to the north was the town of Carmel, and five miles north of that was Ziph.
They then moved back to the desert strongholds west of En Gedi; they were still wary of Saul and his fickle moods and needed a base where they could feel secure. However the people of Ziph had previously told Saul where David and his men had hidden (1 Samuel 23:19) and they were quick to alert him now.
Read 1 Samuel 26:1-4
1 The Ziphites went to Saul at Gibeah and said, 'Is not David hiding on the hill of Hakilah, which faces Jeshimon?'
2 So Saul went down to the Desert of Ziph, with his three thousand select Israelite troops, to search there for David. 3 Saul made his camp beside the road on the hill of Hakilah facing Jeshimon, but David stayed in the wilderness. When he saw that Saul had followed him there, 4 he sent out scouts and learned that Saul had definitely arrived.
Picture an army of three thousand 'select Israelite troops': these were not like the rag-tag rebels that had attached themselves to David. When they set up camp on flat land 'beside the road', It is unlikely that they had tents; the weather in Israel would have been warm and dry so sleeping outdoors was not a problem.
But that didn't mean that anyone could unroll their mat just where they liked – they would have been laid out with military precision. Officers would have had their specific places, and the King's would be central. Saul's men outnumbered David's five to one; so they could sleep confidently as they awaited their next orders.
Read 1 Samuel 26:5-6
5 Then David set out and went to the place where Saul had camped. He saw where Saul and Abner son of Ner, the commander of the army, had lain down. Saul was lying inside the camp, with the army camped around him.
6 David then asked Ahimelek the Hittite and Abishai son of Zeruiah, Joab's brother, 'Who will go down into the camp with me to Saul?'
'I'll go with you,' said Abishai.
This would be a perilous, even suicidal exercise, so he asked for a volunteer to accompany him.
Read 1 Samuel 26:7-8
7 So David and Abishai went to the army by night, and there was Saul, lying asleep inside the camp with his spear stuck in the ground near his head. Abner and the soldiers were lying round him.
8 Abishai said to David, 'Today God has given your enemy into your hands. Now let me pin him to the ground with one thrust of the spear; I won't strike him twice.'
What a tempting thought – David could become king at a stroke!
Read 1 Samuel 26:9-11
9 But David said to Abishai, 'Don't destroy him! Who can lay a hand on the Lord's anointed and be guiltless? 10 As surely as the Lord lives,' he said, 'the Lord himself will strike him, or his time will come and he will die, or he will go into battle and perish. 11 But the Lord forbid that I should lay a hand on the Lord's anointed. Now get the spear and water jug that are near his head, and let's go.'
I wonder if David had any idea what he was going to do when he set out with Abishai that night. But rather than kill Saul, it would be just as impressive to steal his spear and water jug.
Read 1 Samuel 26:12-16
12 So David took the spear and water jug near Saul's head, and they left. No one saw or knew about it, nor did anyone wake up. They were all sleeping, because the Lord had put them into a deep sleep.
13 Then David crossed over to the other side and stood on top of the hill some distance away; there was a wide space between them. 14 He called out to the army and to Abner son of Ner, 'Aren't you going to answer me, Abner?'
Abner replied, 'Who are you who calls to the king?'
15 David said, 'You're a man, aren't you? And who is like you in Israel? Why didn't you guard your lord the king? Someone came to destroy your lord the king. 16 What you have done is not good. As surely as the Lord lives, you and your men must die, because you did not guard your master, the Lord's anointed. Look around you. Where are the king's spear and water jug that were near his head?'
Abner, as Saul's bodyguard, was now personally in deep trouble. Across the road, standing on high ground was the man they were hunting, but in his hand was a spear looking suspiciously like Saul's. He didn't know what to say.
Read 1 Samuel 26:17-20
17 Saul recognised David's voice and said, 'Is that your voice, David my son?'
David replied, 'Yes it is, my lord the king.' 18 And he added, 'Why is my lord pursuing his servant? What have I done, and what wrong am I guilty of?
19 Now let my lord the king listen to his servant's words. If the Lord has incited you against me, then may he accept an offering. If, however, people have done it, may they be cursed before the Lord! They have driven me today from my share in the Lord's inheritance and have said, "Go, serve other gods." 20 Now do not let my blood fall to the ground far from the presence of the Lord. The king of Israel has come out to look for a flea – as one hunts a partridge in the mountains.'
David wants some answers:
1 Did the Lord instruct Saul to kill him? If so then he could be appeased with an offering.
2 Did other people instruct Saul to kill him? If that was the case may the Lord curse them. Why? Because in effect he has been driven from the land given him by the Lord as his inheritance, and forced into exile in a heathen land.
3 Why has the King himself bothered to come hunting a nobody?
Read 1 Samuel 26:21
21 Then Saul said, 'I have sinned. Come back, David my son. Because you considered my life precious today, I will not try to harm you again. Surely I have acted like a fool and have been terribly wrong.'
Saul obviously saw how foolish he now appeared. Perhaps he also saw now near death he had been, again.
Read 1 Samuel 26:22-24
22 'Here is the king's spear,' David answered. 'Let one of your young men come over and get it. 23 The Lord rewards everyone for their righteousness and faithfulness. The Lord gave you into my hands today, but I would not lay a hand on the Lord's anointed. 24 As surely as I valued your life today, so may the Lord value my life and deliver me from all trouble.'
Note how David continues to remind Saul that the Lord cannot be ignored. How many times do we read 'The Lord' in these three verses?
Read 1 Samuel 26:25
25 Then Saul said to David, 'May you be blessed, David my son; you will do great things and surely triumph.'
So David went on his way, and Saul returned home.
All well and good but can David really trust Saul now?
Read 1 Samuel 27:1-2
1 But David thought to himself, 'One of these days I shall be destroyed by the hand of Saul. The best thing I can do is to escape to the land of the Philistines. Then Saul will give up searching for me anywhere in Israel, and I will slip out of his hand.'
2 So David and the six hundred men with him left and went over to Achish son of Maok king of Gath.
Are we surprised? Do we remember what happened previously when he tried to seek refuge in Gath? (1 Samuel 21:10-15)
The Philistines had no interest in making any sort of land grab. But they were always quick to see a weakness where a raid would bring them quick returns.
When David and his army of rebels appeared again asking for refuge from the King of Israel, Achish probably recognised in David a useful ally. News had spread of David's prowess in battle and to have him on the Philistines side could actually be to his advantage.
Read 1 Samuel 27:3-7
3 David and his men settled in Gath with Achish. Each man had his family with him, and David had his two wives: Ahinoam of Jezreel and Abigail of Carmel, the widow of Nabal. 4 When Saul was told that David had fled to Gath, he no longer searched for him.
5 Then David said to Achish, 'If I have found favour in your eyes, let a place be assigned to me in one of the country towns, that I may live there. Why should your servant live in the royal city with you?'
6 So on that day Achish gave him Ziklag, and it has belonged to the kings of Judah ever since. 7 David lived in Philistine territory for a year and four months.
David very wisely asked for a place away from the Royal city. He was well aware of tensions that could build up with two kings in one palace!
It also meant that he could manage his men with little outside interference.
Read 1 Samuel 27:8-9
8 Now David and his men went up and raided the Geshurites, the Girzites and the Amalekites. (From ancient times these peoples had lived in the land extending to Shur and Egypt.) 9 Whenever David attacked an area, he did not leave a man or woman alive, but took sheep and cattle, donkeys and camels, and clothes. Then he returned to Achish.
On first reading David's actions seem unnecessarily barbaric, but actually the Lord had commanded that these 'Canaanite' peoples must be completely destroyed. Specifically:
Deuteronomy 25:17
19 When the Lord your God gives you rest from all the enemies around you in the land he is giving you to possess as an inheritance, you shall blot out the name of Amalek from under heaven. Do not forget!
And Joshua 13:1-2
1 When Joshua had grown old, the Lord said to him, 'You are now very old, and there are still very large areas of land to be taken over.
2 'This is the land that remains: all the regions of the Philistines and Geshurites,
(Girzites are not mentioned elsewhere in the Bible)
Note the last phrase of verse 9 – David reported back to Achish, no doubt delivering to him some of the spoils from his raid.
10 When Achish asked, 'Where did you go raiding today?' David would say, 'Against the Negev of Judah' or 'Against the Negev of Jerahmeel' or 'Against the Negev of the Kenites.'
Where was the Negev?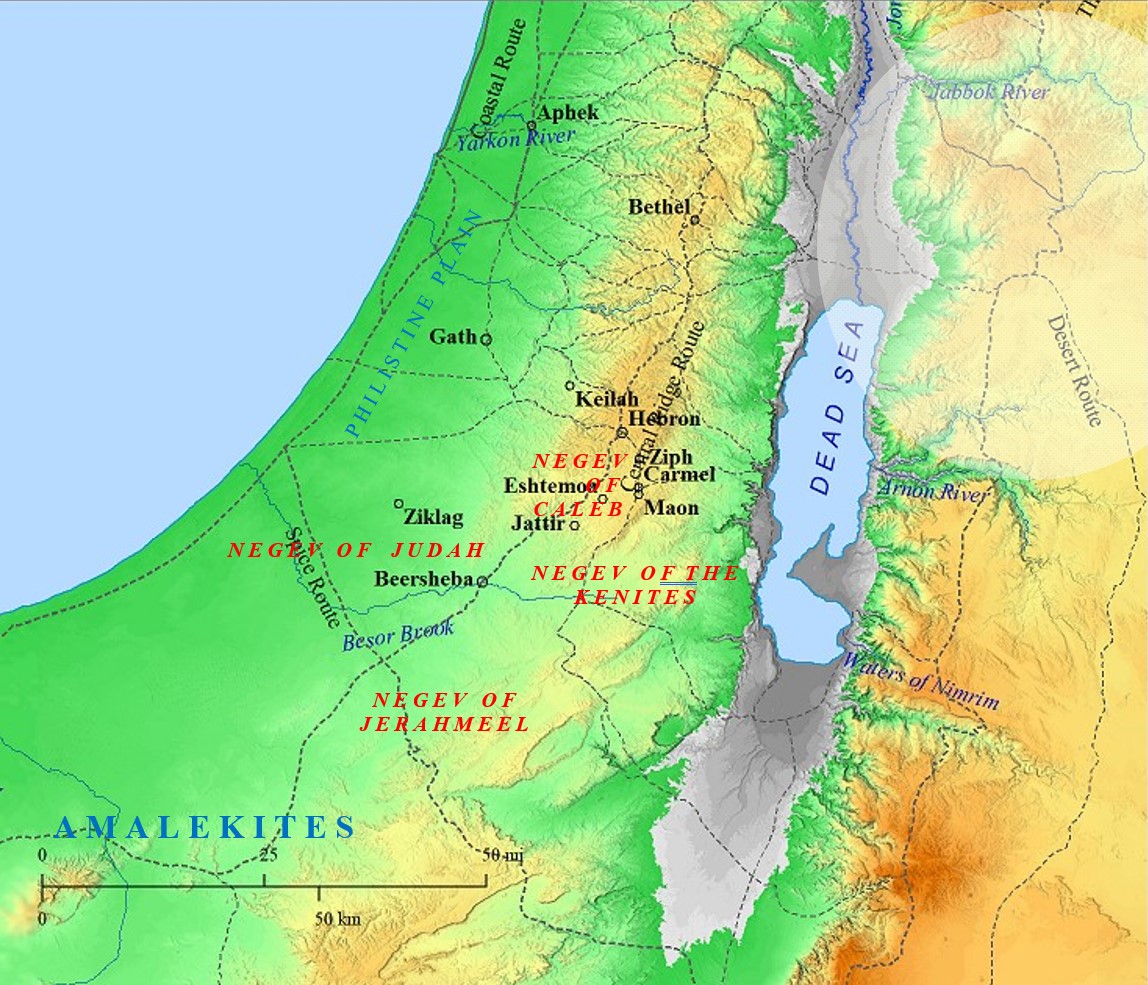 The Negev was generally the semi-desert area of no-man's-land just south of Israel which today extends to the Gulf of Aqaba and the border with Egypt. Often it would contain bands of nomadic wanderers.
The Philistines had no interest in this area at all – they limited their expansion to the coastal plain; so by suggesting that he was raiding outlying Jewish settlements, David disguised his real targets.
11 He did not leave a man or woman alive to be brought to Gath, for he thought, 'They might inform on us and say, "This is what David did."' And such was his practice as long as he lived in Philistine territory. 12 Achish trusted David and said to himself, 'He has become so obnoxious to his people, the Israelites, that he will be my servant for life.'
Once more we are left with a bad taste in our mouths. Was this really what the Lord wanted for David, that he should lie his way out of trouble?
Right or not, Achish fully believed that David had rebelled against Israel and would be happy to fight against his own people.
All too soon we will find what happened next!